LOGAN Double PU Bed Frame - BLACK
6 payments from NZ $36.50 with
What's this?
Please note: Additional charge will be applied for rural area.

FREE
What Other People Also Bought?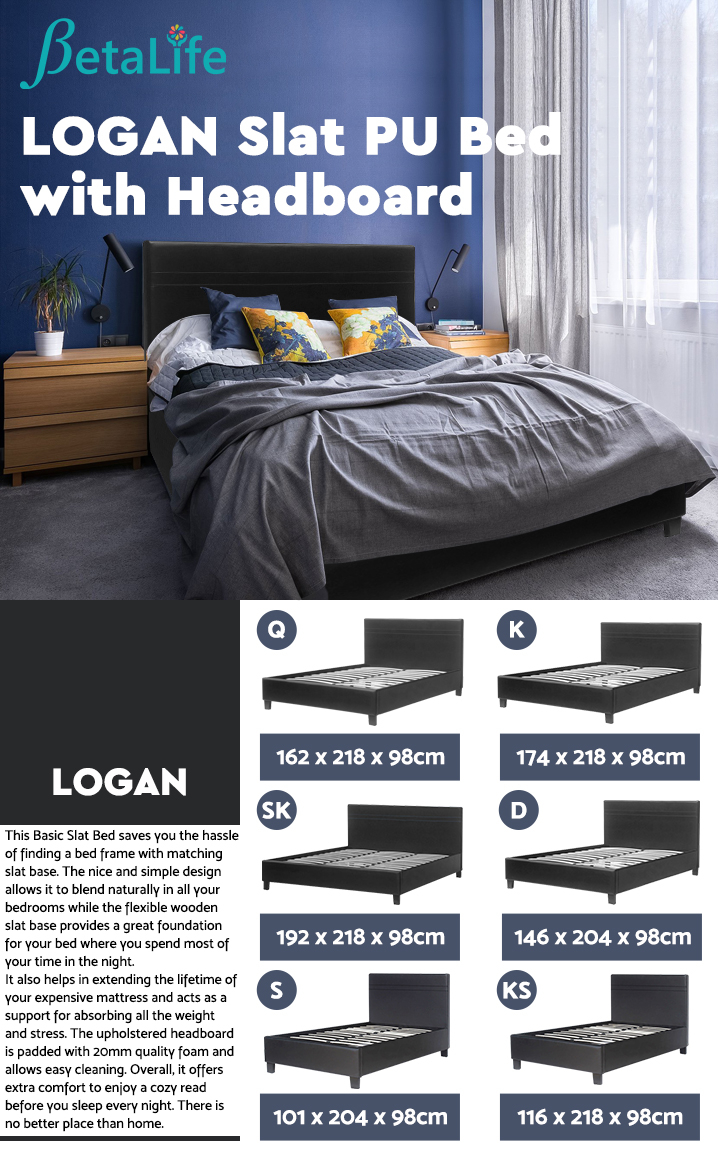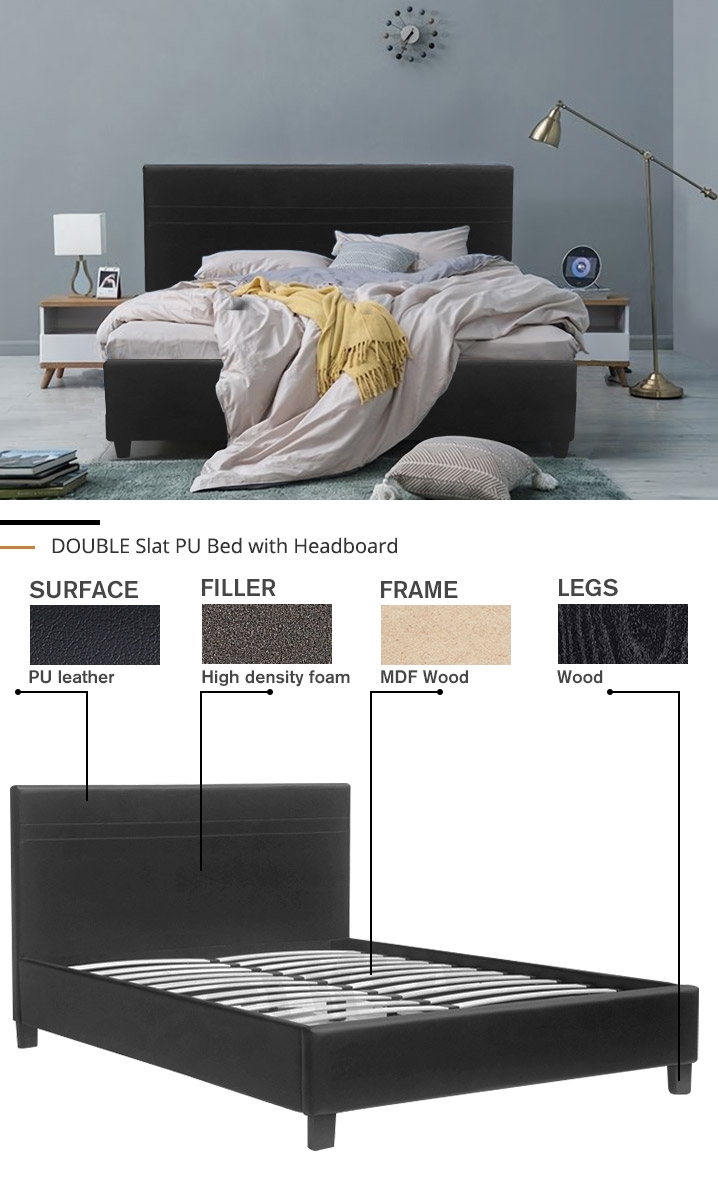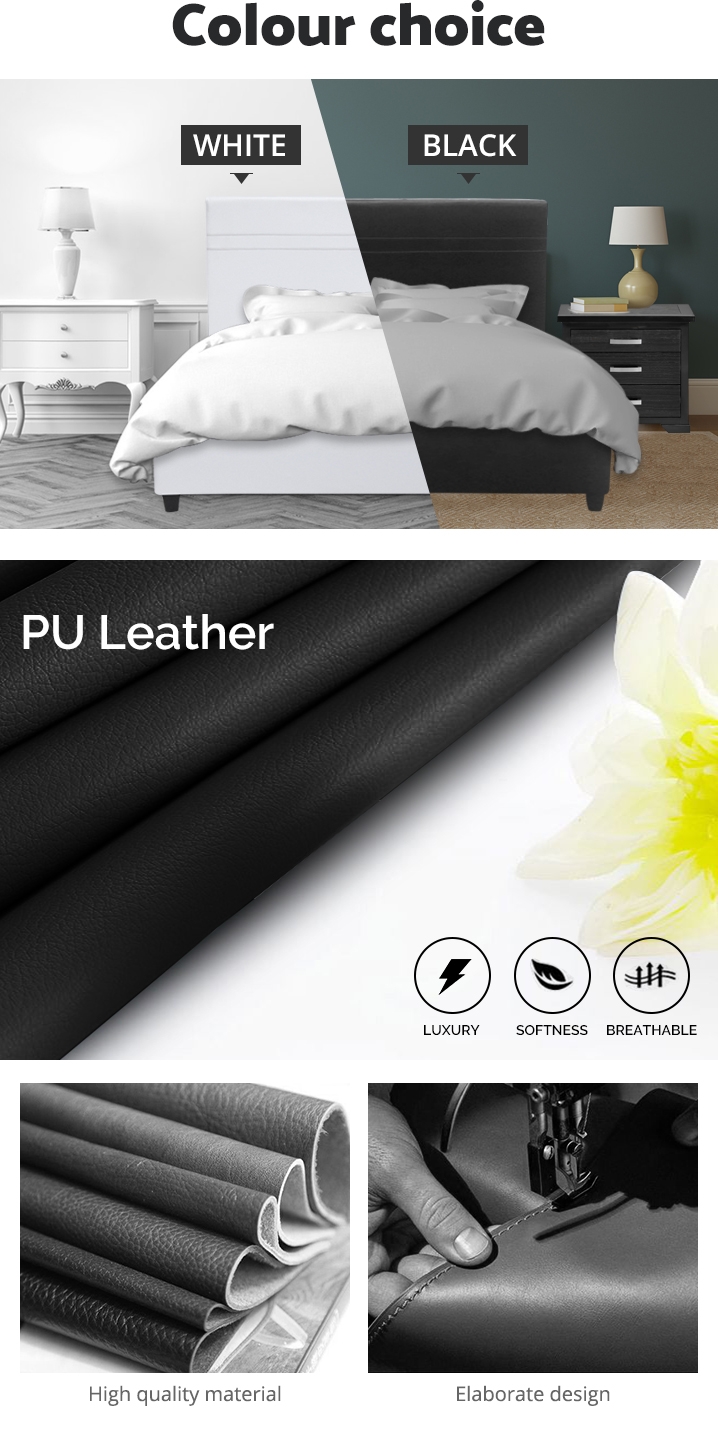 LOGAN Double PU Bed - BLACK
Talking about dreams come true when you don't even sleep comfortably at night? Well, that's not likely to happen unless you invest in a quality bed that makes your nights more comfortable. Choosing the right bed isn't just about how comfortable a mattress is but the bed base also plays a major part in giving you a comfortable experience overall.
This Basic Slat Bed saves you the hassle of finding a bed frame with matching slat base. The nice and simple design allows it to blend naturally in all your bedrooms while the flexible wooden slat base provides a great foundation for your bed where you spend most of your time in the night.
It also helps in extending the lifetime of your expensive mattress and acts as a support for absorbing all the weight and stress. The upholstered headboard is padded with 20mm quality foam and allows easy cleaning. Overall, it offers extra comfort to enjoy a cosy read before you sleep every night. There is no better place than home :)
PLEASE NOTE: Assembly is required! Please check the behind of headboard after receiving the parcel, part of components will placed over there. If the components are still missing, please contact our customer service team.
100% Brand New LOGAN Double PU Bed Frame - BLACK
Comes with headboard, bed frame & slat base
Stress absorbing flexible slats
Metal beams & legs for sturdy support
Upholstered headboard padded with 20mm foam
Upholstered frame padded with 5mm foam
Simple elegant design to blend into home decor
Raised by 4 wooden legs
10cm raised from floor
Fits standard Double Mattress
Product Dimensions (L W H): 204cm x 146cm x 98cm
Package Dimensions (L W H): p1=150x92x10cm / p2=199x29x19cm
Net Weight: p1=16.5kg / p2=19.5kg
Package Weight: p1=18.3kg / p2=22.8kg
Fitting Mattress Dimensions (L W): 190cm x 137cm
Under Bed Clearance: 10cm
Material: Wood slats / PU leather / Non-woven fabric
Size: Double
Colour: Black

Package Contents:
1 x LOGAN Double PU Bed Frame - BLACK