COVID-19 Updates
Last updated: Tuesday 8 March 2022
Kia Ora Treasurebox Customers,
We hope you and your families are doing well during these uncertain times.
We are actively monitoring the COVID-19 situation in New Zealand and will keep you informed here about any changes that may affect our service.
Order Processing Time
Treasurebox distribution centre is still fully operational, we are continuing to dispatch and deliver orders nationwide in the current.
Reduced warehouse staffing to lower the risk of spreading the Omicron virus within our community which means we are currently receiving the mass order backlog, we are anticipating taking longer than usual to process your order.
We are now fighting hard to get your item into the courier network! We apologise for the inconvenience and thank you for your patience.
*You will receive an email with tracking information once your order is dispatched!
Delivery Times
All couriers are now conducting contactless / zero-touch deliveries. However, part of our delivery partners are experiencing delays due to Omicron related staff absences, your delivery might take longer than normal to reach you. And Thank you for your understanding and patience.
NZ Post Delivery: Our delivery partner NZ Post currently are dispatched as normal. If you need more detail about the shipping updates of the NZ Post, please check HERE.
Freight Partner Delivery Delays: Oversized or overweight items go with Freight Company. Our partner has advised us of delivery delays of up to 5-6 additional working days on top of usual delivery times after dispatch due to Omicron related staff absences in Auckland and ongoing virus case increasing.
* 7 - 10 working days dispatching are expected in North Island, 10 - 12 working days dispatching in South Island.
Showroom Temporarily Closed
In order to reduce opportunities for gathering and lower the risk of spreading the virus within our community and avoid face to face contact wherever possible, our showroom is currently closed. We apologise for the inconvenience and will update by email when we reopen.
Contactless Pickup Service available
We currently offer contactless delivery for orders and contactless pickup service!
We are available for contactless pick up under pre-arrangement ONLY, please make sure you have received the confirmation email and/or text before you visit us. Please kindly follow the pickup instruction, if you have further questions, please do not hesitate to contact our customer service team.
* Please only come to collect your order once you have received confirmation that it is ready for collection.
Contactless Pick Up Hours:
Monday - Sunday, 9am - 4pm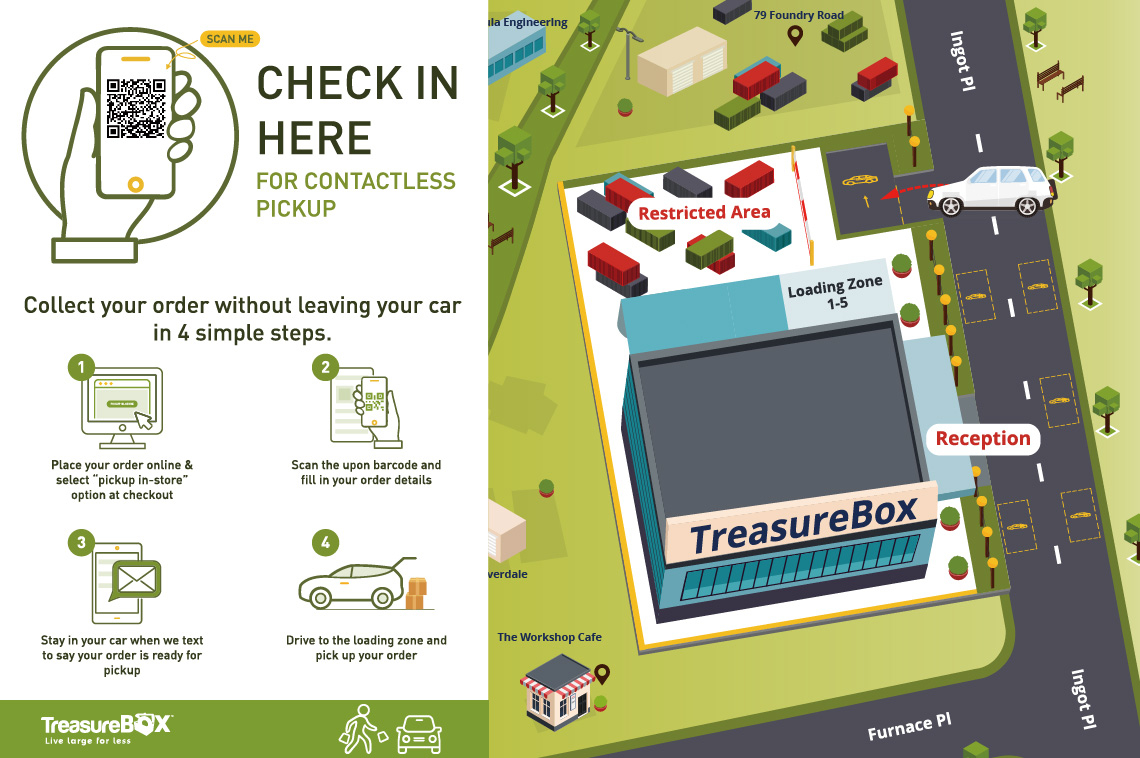 Customer Service Operating Normal
Our email, live chat services are operating as normal with many of our staff working from home. however, the reply may cause minor delays.
You may have concerns about your orders and delivery dates. We're here to help, and we're dedicated to making sure you get what you need. Should you have any questions at all, please send us an email with your question to contactus@treasurebox.co.nz or use our online chat service, our customer service team will be more than happy to help you out.

We will update on the website if this changes and we will also keep in touch with you via Facebook to ensure you have the latest updates!
To find out more about the COVID-19 situation in New Zealand we recommend visiting covid19.govt.nz.
Take care,
Treasurebox Team