6 factors to keep in mind before buying an entertainment unit
Some researchers stated that people spent an average of 4 hours on watching TV each day. With more and more Apps and software companies such as Netflix, Amazon Prime are consistently contributing new TV shows, series or movies to those smart TV users, stay at home theatre is a more an old lifestyle in new trend.
So, planning to get yourself a large, brand-new TV with high tech, a set of sound bar system, a PS5 or a Nintendo Switch? Let's start by choosing the right entertainment units.
1.How big should my entertainment unit be?
When we talk about the sizes of a piece of furniture, of course, we consider how much space do we have available for it. However, today we want to discuss from a few different perspectives that it is always the larger the better when choosing an entertainment unit.
The first reason for choosing a larger TV cabinet is that you need to remember TV screens are measured diagonally. If your TV stand has the same measurement with your entertainment unit, meaning most of the times, the TV itself is wider than your cabinet, which looks odd and also added unknown risk of someone crashing onto the conner of the TV.
While having spare surface on your entertainment unit not only provide you extra safe for TV but actually gives you more flexibility to make this area a decorative centre of your living space. No matter you are putting some greens in pot next to our TV or decoration crafts, will be sure to bring some special characters to your living room.
Larger TV consoles always bring with extra storage space. To be honest, black cables and cords, as well as all those wires from our gaming consoles, they are ugly and often leave us not knowing what to do with them. Having an entertainment unit that having extra drawers and shelves is a great way to organize all our TV and gaming accessories and reduce the clutter in the living room, while keeping all your equipment hidden from your pets or children.
Of course, if your goal is to save up spaces on the floor, small entertainment units that is as small as 100cm in length or sometimes a simple as TV cabinet could also be good options.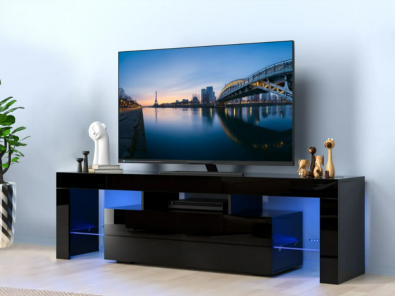 | TV Diagonal ( Inches ) | Approx width ( cm ) | Approx height ( cm ) | Recommend Entertainment units in length ( cm ) |
| --- | --- | --- | --- |
| 40 | 100 | 60 | 120 - 150 |
| 46 | 110 | 65 | 130 - 160 |
| 50 | 115 | 70 | 130 - 160 |
| 55 | 130 | 75 | 140- 180 |
| 60 | 140 | 80 | 150 - 190 |
| 65 | 150 | 90 | 160 - 200 |
| 70 | 160 | 95 | 170+ |
| 75 | 170 | 100 | 180+ |
| 80 | 180 | 110 | 200+ |
| 85 | 200 | 120 | 220+ |
2.Consider your needs
As most of us do prefer plenty of space for our home media storage needs, you still want to consider your own lifestyle and daily needs.
If you only want to be lying down on your sofa beds, with a glass of wine stand by on your coffee table, watching TV shows after a long day working, you may want to hide your game console avoid from pets, kids and dusts. In this case, entertainment storage units feature few cabinets and drawers would be perfect for you. While if you need to play game to release your stress and pressure from a tough day, you may want your gaming equipment are on open shelves that relatively easy to grab but still able to keep tidy and organised. Then, an entertainment unit with shelves would fit your needs more.
As the entertainment center also plays a very important role in building quality family times that gather parents and kids together for no matter games or movies that helps create long lasting memories, again, you'll want a large entertainment unit that not only to store your CDs and gaming DVDs, but also has enough space for each family member for their own equipment storage needs. If you have not discovered this simple bonus that a TV cabinet bringing into your family, make sure you do now.
In conclusion, consider your needs before investing a TV table for your living room, will help you narrow down the election further.
3.Choosing entertainment units base your sofa height
The height of the entertainment unit should also be determined carefully while most people don't. No matter the size or style of a TV cabinet you have in mind, or you were simply looking for a TV wall mount , the most important thing is to position your TV at or a little lower to your eye level while seated to make sure your TV time is for relaxing only but not become unexpected effect to your neck, shoulder and eyes.
Experts recommend that the best height of a TV is to make sure the center of the TV is about 100cm – 108cm high from the floor. Depending on your TV size the most commonly used entertainment unit height is generally between 50cm – 55cm.

4.Incorporating your living room colour and style
Entertainment units are the piece of living room furniture that last forever, when we say forever, it literally…forever… Yes, unlike phones, you will barely consider replacing an TV cabinet for a newer model or a newly announce colour although it is one of the masterpieces. Hence before you are taking home any entertainment unit, unless you are quite certain on what you wanted to be, do consider something that can easily go with any style.
If you tend to have darker room lighting, light colour such as oak or neture tones would be helps in lighting up the whole look by offering contrasts. While if the lighting is not a problem, or sometimes too bright that makes the room look overexposure, darker color like black, or walnuts will work great to add character to the room.
If you are upgrading the unit, make sure it is consistent with your existing furniture. Imagine you are ordering a sleek modern look entertainment unit that will be sitting in the middle of your mid-century traditional style living room, it may feel like it from nowhere after all.
5.Understand additional features that an entertainment unit may offer
Since entertainment unit is a piece of furniture that you won't remember to replace all the time, besides the functionality, stylish, you may want to make most use of it by choosing those ones with additional features.
The trending features on entertainment units such as cable management that always meaning an open front with cable holes in back to help organize and hide the cables and wires which is essential.
High gloss finish, that makes the unit look much more of a modern and smart.
LED lightings always comes in multiple colours that you can choose from depending on what environment you are creating for today. A movie night after kids went sleep, you may only want to turn on your TV console table at a low warm light model to matching your mood.
Handle- free drawers, tempered glasses shelving, coated steel frame …. There are lot of new features has been added on to entertainment unit nowadays to enhance your living space stylish and to make your entertainment center fun and functional at the same time.
6.Set up your budget
People always having the impression that an entertainment unit is costing, while it actually can be a budget friendly investment out of other living room furniture.
A starter level entertainment unit does not necessary mean you need to give up any of the functionality of storage or cable management nor any additional features for it. Treasurebox has a great range of entertainment units that are less pricy but still deliver wow features, as one of the perfect places to find entertainment units nz that fit your budget will not only serve your purpose of being functional, but also being appealing at the same time.
Final thoughts
There is much more an entertainment unit could offer rather than raising your TV to eye level, it is a great piece to enhance your living room aesthetic. From classic wooden look entertainment unit to sleek modern TV cabinet, there are plenty of them to chose from. Here at Treasurebox, we offer NZ wide shipping and a large section of entertainment unit as well as matching Coffee table, console table and more. Come to visit us for more handy advice for choosing your home furniture.