Work From Home Like a Pro – Your Ultimate Guide for Office Desk
During the past few years, working and schooling from home are part of the new normal for our daily life. Unlike kids, desk and tables were one of the simple setups that just a square with legs. As a grown up, we know how important to work productive at home and how time consuming to put together a comfortable and pleasant home office space to ensure that would happen naturally.
We are here to tell you how to make you feel your remote work that not so remote by introducing you few tips to choose the best desk.
Why choosing a desk is important
As grownups we spend 1/3 of our life sleeping, 1/3 working, 1/3 on life. A comfortable workplace is just as important as a cozy bedroom or a quiet mancave.While working from home become a new normal during the past years, many of us have found ourselves that have been working at home with a setup that did not support our health. If we look back to it, we may discover ourselves many times that were working on kitchen benches, dining tables, sofas, beds that causing us back pain, sore neck and shoulder, even worse eyesight, then we realise, it is the time. It is the time to consider having our home office set up correctly to improve our productivity, efficiency and comfort while remain our healthy. And one of the most fundamental essentials of any workspace, desks are the one needed careful consideration before any investment.
Type of Desks?
1. Office Desk/Writing Desk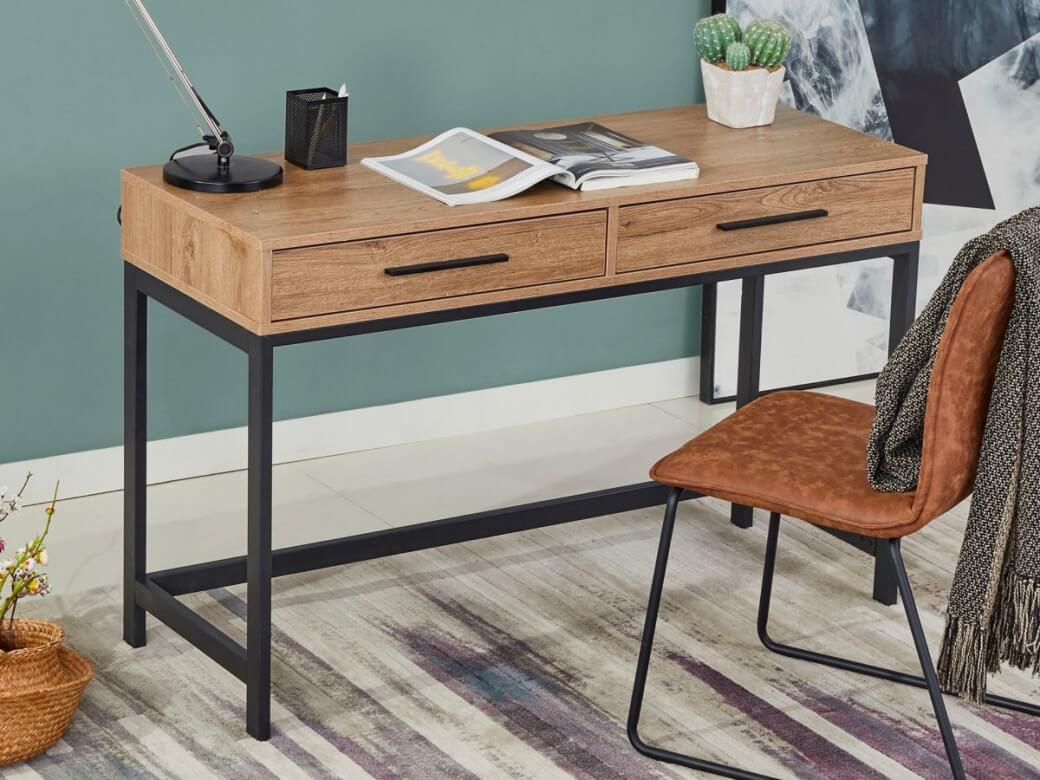 Any desk can be used for writing or doing office work, but for those who believe in handwriting, a writing desk is for write… oops but it is right. Writing desks and office desks are typically smaller and thinner with just enough room for your notebook. Unlike many computers desk or desks with storage or bookshelves, a writing desk can be very simple and straight forward in design, that making them easy to slot in any space but still looks sleek.
Office desk comes in a wide variety of sizes, colors, and finishes, if you are looking for something that give your room a modern look, steel frame with darker desk top would be your first option. While if you are more interested in a traditional look, oak or white tone with wooden look then would work efficiently.
2. Computer desk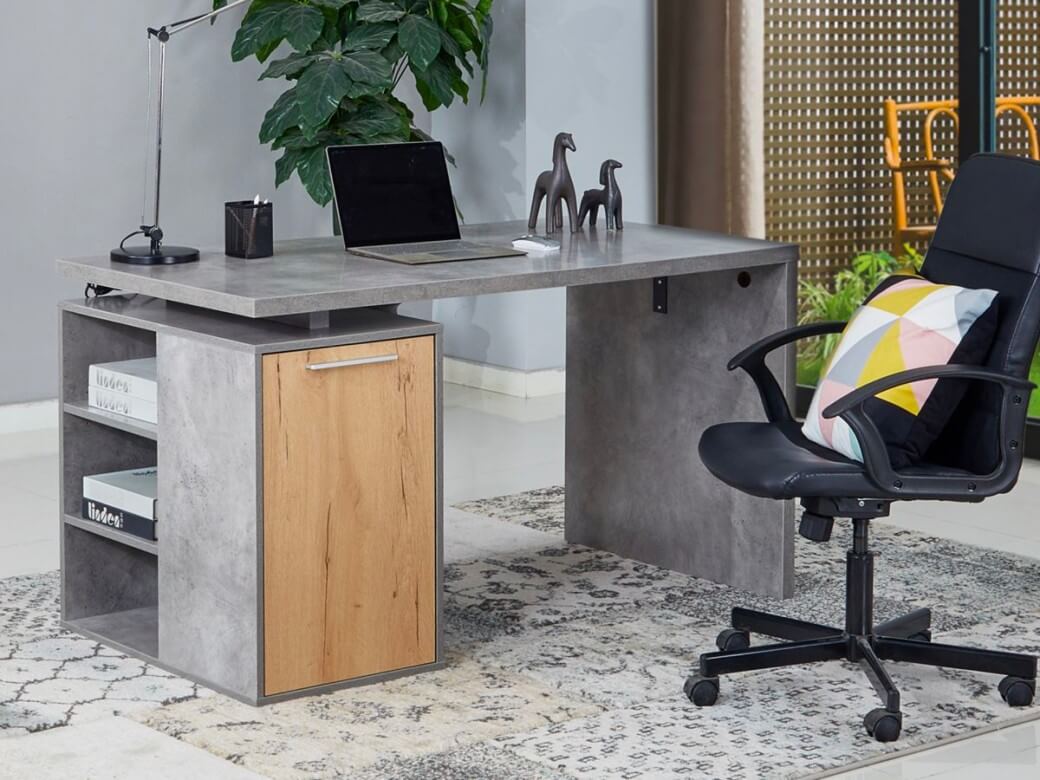 Depending on your daily jobs, you may need to put all your computer essentials such as laptop, monitors, printer and scanner in one place to make most of the space to add productivity. Although laptops has now become thinner and smaller than ever, this is the kind of desk you'll want to be featuring a wider, larger surface for one or more monitors, and better also include some storage space to hide those unsightly items.
Computer desk with keyboard tray was a signature design back in 10 years, although not many people are caring about keyboard tray anymore, bear in mind that a keyboard tray does save up a lot of space on desk surface. On the hand, if you simple don't like the tray design, choosing a computer desk with drawers that would help to retrieve the storage space of the desk.
Although computer desk also comes with a variety of other features such as glass computer desk, wood computer desk that at different finish to suit different inter designs. Adjustable computer desk, foldable computer desks that to meet your unique requirement, you do not need to be overwhelmed, simply remember one key factor when choosing, that is sturdy matters.
3.Standing Desk
One identical feature of the modern workplace is the standing desk. This incredible technic has your physical health in mind that allow you to stand or sit while you go about your daily tasks.
They're designed to adjustable easily from seated to an ideal standing height in as fast as 35 seconds, not only ideal for people that suffering from back problem but also great option for office ladies that can keep their calorie burning at the mean time.
Standing desk sold at Treasurebox that features powerful dual motors enables more powerful and stable support, with 4-position memory function that allow users to set their favourite height in just one click. Adjustable height from 70 cm to 120 cm easy change your sitting to standing position in 35 seconds. Large and spacious work area and solid and quality build construction. It is also featuring child lock to enhance your workspace safety.
4.Corner Desk and L-Shape Desk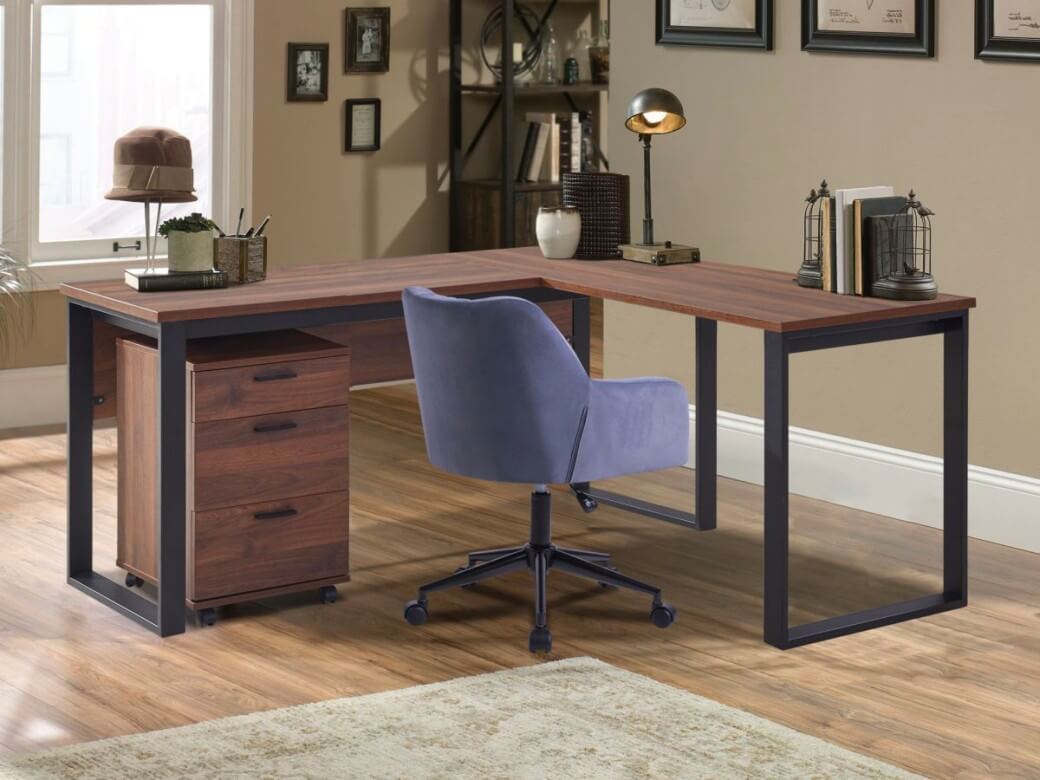 For those multitaskers, a corner desk can be very helpful. You can use one side of the desk to accommodate your laptop, while keep the other side clear for paperwork or other tasks.
One of the main benefits that corner desks provide large space while it does not take up a lot in your room, and as they have often been position facing a wall or screen, meaning the users is less distracted that improves work productivity.


How much space do you need to have?
Lacking space is always one of the reasons that stopping people investing a comfortable home office desk. While it is not necessarily always a true factor.
Editor believe we both agree that to determine the length of an office desk is a simple measure task while how much space do you need behind a desk is the key.
Some researchers have been testing it and most of them are commending a 50-76cm footprint for a chair to be pulled away from an office desk to sit or stand up comfortably.
That's check out a few desks dimension that are available at Treasurebox that are slim design that are perfect for small spaces.
What did you find after reading those dimensions? Yes, if you have a meter clear space, you have just enough space for a decent office desk, and you deserve one.
What is your budget?
Once you have determined the measurements for a desk that can fit in your space, you can begin narrowing down the selections. To narrow it down further, it's time to look at your budget. It's a good idea to come up with a price range you are willing and able to spend on an office desk.
Treasurebox offers many different class of Home Office furniture in a wide price range, whether you are looking to spend on something elaborate and spacious on fancy standing desk, or if you need a small computer desk in bedroom under a hundred range. We're at your side to help on creating the best workspace for you at home.