What to consider when buying a bed frame
Now, you've spent enough time and effort to get the right mattress for yourself, but did you know choosing a good bed frame is just as important as choosing a mattress?
A bed frame isn't only designed to lift your mattress up from the floor, and support to your mattress to its functionality, it is also contributed to the decoration and style of your bedroom. If you are wondering how to choose the right bed frame, read on
We are going to walk you through some necessary topics from material, construction to types of beds, from size navigating to decide your budget, to make you choose of a bed easier. So, let's jump right into it
What to look for on bed frames
Material – A Bed are typically made of wood or metal, each of the material do have their own pros and cons. Wood is a classic and reliable material for bed frames which are generally made from solid wood or MDF wood. Of course, solid wood bedframe would be much more durable than MDFs however, it can get very pricy and quite heavy, hence a lot of wooden bed frame nowadays in the market are combination of both to make the bed sturdy, lightweight and budget friendly. Metal bed frame often comes a minimalistic appearance, though they are durable and sturdy but can get squeaky after some time of usage.
Construction – Some beds come with the headboard while some doesn't, which would not impact the durability of beds but purely personal preference. But whether the bed comes with ample support is the key. How many rails were designed to support the bed? Are there any middle legs featured? Ask the salesman in a bed store or carefully read the information provided when purchasing online.
With above basics in mind, your steel wheel is on the right direction on choosing the right bed frame.
Type of beds
Apart from wooden beds and metal beds that we talked about, there are few popular types of beds available.
Slat bed
There are two type of slat bed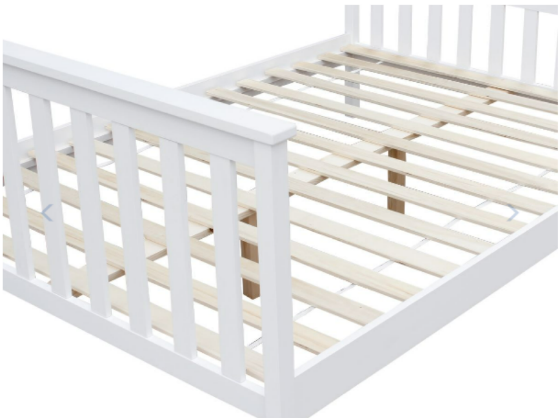 Solid wood slats: Solid wood slats normally fixed to the bed to ensure its durability, due to it flat design that provide a much firmer support but lack of flexibility. If too much pressure were applied to the fixed slats, it can be snapped.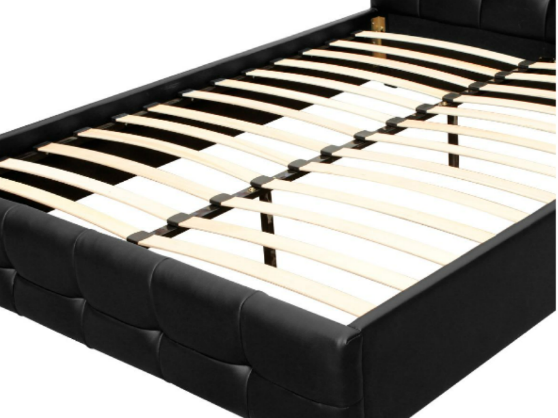 Sprung Slats: The slats for those kinds of beds are generally made of plywood, featured an upward curve. The material and shape together act like a spring to adapt your weight and movement when you in bed to provide you more comfort and flexibility.
---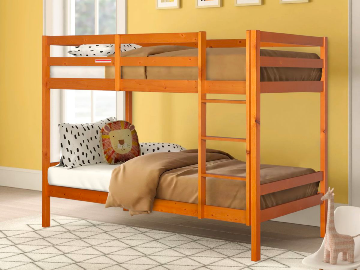 Bunk Bed
A bunk bed is the best option to accommodate two children in one bedroom to maximize the room while allow each of them could still have individual spaces. The bed on top normally features protection beam to avoid child from falling off, but do keep in mind that there still risks so better to put older child on top.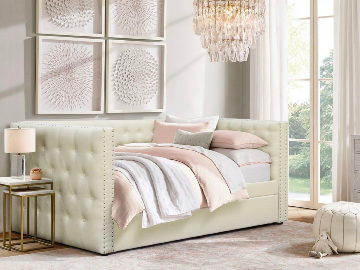 Trundle Bed
Trundle bed is another space saving options if you are looking for good kids beds or some flexibility to accommodate guests to stay in for the night, simply pull the second bed out when you are ready to go sleep and hidden them again next day.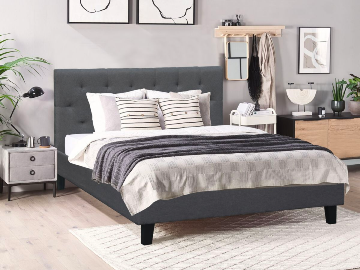 Upholster Bed
Upholster Bed is become a trendy choice due to its stylish and seek appearance. The think cushion and upholster bring in soft and comfy to help to create cozy feeling in your bedroom. As upholster can be in various of colours and designations, it is also can be act as a decoration to add character to your room. However, do keep in mind that you may need to put some extra efforts when come to cleaning.
---
Bed and Mattress NZ Sizes
Beds and Mattress sizes in New Zealand is slightly different from Australia or other countries, here's a quick rundown for beds nz sizes
BEDS NZ Size Chart
When choosing your bed, consider your room size. This logic also applies to your beds as well as other bedroom furniture.For example, if you are fitting a bigger bed frame in a small room, then to be able to move around comfortably you may have to give up one of your bedside tables , or drawers, depending on how you would like your bedroom to be styled, some people might think it feels much more completed or consistent with a set of bedroom furniture together.
Determine your budget
Setting a budget is an easy way to narrow down your bed frame search, there are few tips to help you to get cheap beds in good value.
Looking for bundle sales
Most of the times when you are looking for a new bed, you probably needing a new mattress as well, then looking for bundle sales would be a good option. Beds stores often come up with Bed with Mattress deals to attract potential customers, you may get a huge saving from buying them together.
Looking for options online
Shopping online is the new lifestyle of most of New Zealanders, as online stores tend to have a lower cost on staff and rent hence the pricing online is normally much cheaper.Treasurebox is one of those online companies, whether you need a queen bed only, or bed with mattress deals, or even a set of drawers, we get you covered.