A guide to choose the right Gazebo that best suit your needs
Buying a gazebo is not always easy, if this is your first time investing in a pop-up gazebo, you may get confused with those options in sizes, shapes, and features, it becomes very difficult to choose the right one. What does a cheat-sheet sound like that gives you all the right pointers for selecting a cheap gazebo but in best value from Treasurebox?
What is pop up gazebo?
As ever, New Zealand weather is rather unpredictable and often turn to pouring rain from one moment was fierce sun. After years of experience, gazebo have grown to most popular temporary shelter in New Zealand, especially the instant ones that "pops up" - thanks to the handy pop up that you only need a little push and pull to expand and collapse it – that not only quick and straightforward to offer protection from hot sun or drizzle, and it also come in handy for a wide range of events and applications making pop up gazebo a great investment for your either personal or commercial needs.
What use does a gazebo have?
A gazebo is a must have centrepiece of your backyard parties and BBQs, it also protects your outdoor furniture in the best way during rainy weather. Aside from these common uses, there is plenty of other ways to make most of your investment.
Relax – create a luxury spa area in your backyard is only a few minutes job, simply place an inflatable hot tub under your gazebo and enjoy a glass of wine. Or turn your gazebo into a cozy corner for reading, meditating and away from nosey kids for a moment.
Play – use your gazebo to create a craft area for your little ones and helping them to get into fresh air without exposure to strong UV
Explore – take your gazebo to the beach or local park for a fun day out as they are easy fold for transport
Business – no matter you are organizing a business event or run a night market food truck, a gazebo would get your covered to protect you from the sun or drizzle
Here at Treasurebox, we offer two main different classes of gazebos at different strengths and different price range to suit your ultimate needs, let's discover how to choose the right one for you together
What size gazebo will I need?
Depends on how many people you are accommodating and how much outdoor space do you have that could help you to determine the right size. If you are gathering with just a couple of families or friends, a smaller model such as our 3m x 3m Toughout gazebo is a great option. On the other hand, if you are planning a bigger event or prefer more airy space, a 3 x 4.5m or 3 x 6m Gazebo would work efficiently. As spacious as a 3 x 6m gazebo may be, the reality is it may not fit in your deck or backyard. Measure the area where you would set your gazebos and decide how much or little of the space you would like to be taken up by your gazebo.
Toughout gazebo for sale at Treasurebox contains below sizes: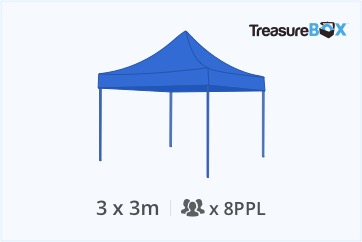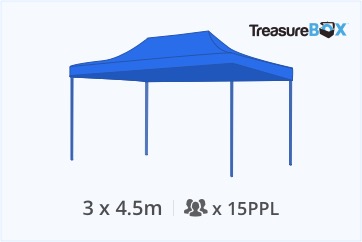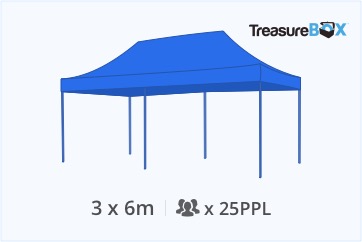 Hiring VS buying gazebo?
People often get the impression that hiring a gazebo may seem like a cheaper and easier option while it isn't always the case.
If you actually looking into it, you may realise you may only have to pay a little amount to own a ToughOut gazebo and once you made the investment, the gazebo is yours forever more. Treasurebox is offering cheap gazebo ranges and subscribe to our newsletter to receive the latest gazebo sale information.
Caring for my gazebo?
Taking a proper care of the gazebo will not only keep it looking great for those events and occasions but also helps on extended the life spam of a gazebo. Let's check out few key points that help main your gazebo in a great condition
Setting up – Stand your gazebo on level ground as much as possible, a wonky gazebo is much less stable during use and it is won't look good.
In use – Secure your gazebo on the ground whenever is possible. Use pegs and ropes when placing your gazebo on the ground or grass. If you are sitting your gazebo on a hard floor, a gazebo water base or gazebo sand bags would be sufficient.
Take down – Gazebo is a temporary shelter and therefore isn't designed to be left permanently. Never left your gazebo unattended overnight and take it down during bad weather conditions such as heavy wind and rain. If you are looking for something that more permanently, our Awings, Patio Canopy or Carport may suit you more.
Store – it is essential to make sure your gazebo is dry before folded and never force the frame. Buying a decent gazebo bag with wheels will make your storage your gazebo easier and always remember to store it at a safe and dry place.
Why do I buy gazebo from Treasurebox?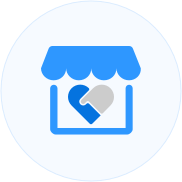 Trusted local retailer has got your covered since 2012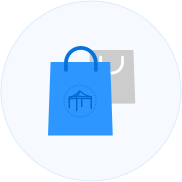 A wide range of selections that meet your different needs and budgets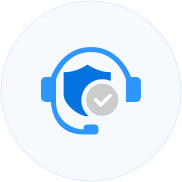 Local customer service that provides you hassle free aftersales care
Treasuebox Gazebo at a glance:
Best Gazebo on budget: Toughout Breeze Gazebo
Best Gazebo on Value: Toughout Thurderstorm Gazebo
People also ask:
Is a pop up gazebo worth it?
Pop up gazebo can come in handy many times as they provide enough flexibility.
They are quick and easy to set up and take down, the portable design also allows you to travel with it to add extra protection from the sun or rain for your outdoor event or to guarantee a fine day out without threaten of unpredictable weather.
On the other hand, they are cost effective. Comparing with hiring a gazebo that may cost you $100 for a day or two, you can a gazebo for sale from only $149 at Treasurebox that got you covered for many years.
Is ToughOut Gazebo any good?
Toughout Gazebo NZ is trusted brand that on New Zealand market since 2015. It is features below to make it a strong and durable at a very great price
Thunderstorm Gazebo
·0.6mm thick Gazebo frame structure
·40 x 40mm steel tube & large base
·35 x 35mm steel legs
·4 levels height adjusting + quick release button
·0.55mm cross bars
·Extra-dense 600D canopy with 265GSM PVC coating
·Extra-dense 210D side wall
·Enhanced UV & water resistance
·From only $279 Breeze Gazebo
Breeze Gazebo
·0.5mm thick frame structure
·30 x 30mm steel tube & large base
·25 x 35mm steel base
·4 levels height adjusting + quick release button
·0.42mm cross bars
·Extra-dense 600D canopy with 180GSM PVC coating
·Extra-dense 210D side wall
·Enhanced UV & water resistance
·From only $149
What colour gazebo is the coolest?
White would be the best choice to keep cool under gazebo, as it is a great reflector of the sun. while Black is best filtering out the UV rates and New Zealanders loves all black however you may find yourself a little hotter underneath during the summer as black absorb all the wavelength instead of reflecting them. No matter whether you are looking for coolest Gazebo in appearance or coolest on weather, Treasurebox got what you need.
Can you keep a pop gazebo up all year?
Do not leave a portable gazebo permanently. Pop up gazebo is design to be light weight, foldable, to be able to move around. Heavy wind may low them away or tear the fabric.
Is a gazebo better with side on or off in wind?
No, gazebo is more wind resistant with the side rather than the size off. Although 50% of customers believe "let the wind pass through" would help but the answer is no. Removing the size can cause wind to build up under the gazebo that creating lift and pushing the tent upwards, and in the reality, this is how most of our customer damage their gazebos. Please note, we are only discussing the scenario under strong wind but not extreme weather.