Why Do You Need a Shoe Rack
As our everyday essentials, no matter whether you have only a few pair of shoes or have too many, we all know that having them laying around the house that take up all your empty spaces and messing with everything wouldn't make your home look good nor feel comfy. Things would go even worse if you got married and had two kids, shoes then become everywhere.
Before you get mad with the situation, fortunately, there is a simple solution to make the life easier and better by choosing a shoe rack that plays an important role to be your storage device and helps to utilise your spaces and organize all those messes.
Shoe Storage tend to be in various on types such as shoe shelves, shoe cabinet, shoe bench etc. each type does have different benefit to suit different needs.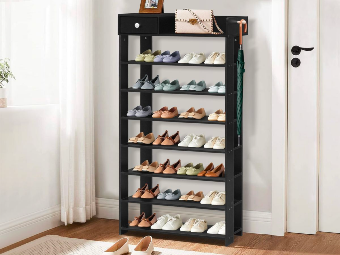 The most common type of shoe rack would be the standard shoe shelf with open shelves, that allow you to have direct access to your shoes on daily bases would generally be recommended to use an entrance for your daily convenience. Open units will have great air flow that allow your shoes to breath to avoid odor. However, on the other hand, open shelve shoe rack cannot protect your shoe from dust or dirt that you may do not want it to be your long-term shoe storage but temporary solution. It can also impact the whole look of your entranceway due to the visibility of shoes.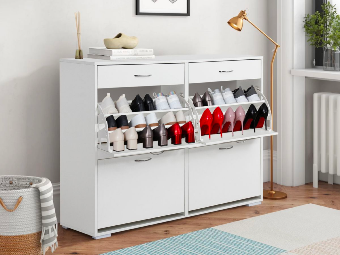 Shoe cabinet is another popular type in NZ shoe rack market, which often build up from wood or MDF board that with a wood looking to enable them to be a piece of furniture that can be placed anywhere in your house without looking weird. Shoe cabinet will also be designed into few different department some are horizontal while some are vertically so that you can store your boots and slippers separately according to their shape. The close design makes the shoes stored out from dust or dirt and keep them organized as the way you wanted to be while keeping your furnishing aligned.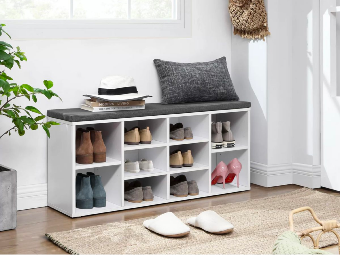 Next come to shoe storage bench that given a form of seat that allow you to seat on while changing shoes. You can have one to be used individually or as a seat next to your main shoe organizer to provide you convenience and additional shoe storage spaces.
No matter which type suits your space, using a shoe rack in any type will allows you to say goodbye to those days when searching for the second footwear from the pair and also bring you some more benefits as blow:
Save Spaces – A shoe rack only need a little space to place it conveniently at any corner at your home either your entryway or garage that frees a lot of surrounding spaces
Boost the life of shoes – one of the most important advantages of a shoe rack is that they can increase the lifespan of the shoes. The accumulated dirt and dust will turn a good shoe off very quick if it has not been stored properly, the humidity of a shoe can cause odor smell inside the house as well. A shoe rack would protect your shoes from dust and dirt while keep the odor free from the house.
Less maintenance – With a shoe rack, you wont need to clean or maintain it too often specially for those closed show cabinets.
Increase home decoration – A stylish shoe rack can also be part of your home decorative objects to enhance your home style.