Shipping Information

Delivery Cost
Delivery Time
Change / Cancel Order
Delivery Method
Products Lost/Damaged During Delivery
International Shipping
Multiple Delivery Addresses Per Order
Track your order
Delivery Costs
Normally, the shipping fee for your order depends on the type of product you are purchasing (the size and weight of your total product).
Oversized/Overweight Items – are marked as oversized delivery (the length of product over 1.8M or the weight over 30kg), there will be sent out by the transport company.
·Rural customers are recommended to contact our Customer Service Team before making a purchase on overweight or oversized items.
·Rural area transport of oversized items will only be delivered to the nearest carrier depot.
Shipping Cost - The delivery cost for the unit product is displayed on product page as an Estimated Delivery Cost (as the picture below showed).
This is an estimated delivery cost by the city of your address. Once you completed your delivery address of the order, the estimated cost will change to a final delivery cost in the order summary.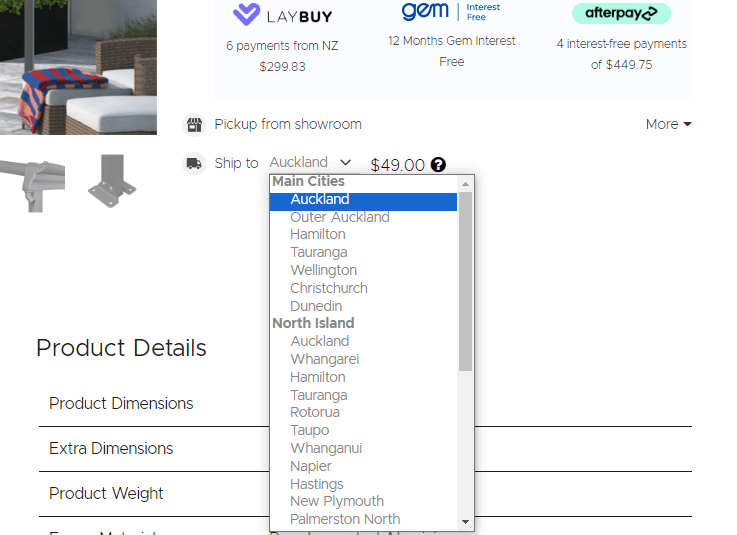 Rural Area Delivery - if your shipping address marked as the rural address may incur additional cost.
Shipping City Selecting - please select 'other cities' if your delivery address is not a major city in New Zealand.
·Major Cities: Auckland, Warkworth, Thames, Whangarei, Hamilton, Tauranga, Rotorua, Napier, Hastings, New Plymouth, Palmerston North, Wellington, Taupo, Wanganui Blenheim, Nelson, Christchurch, Oamaru, Timaru, Dunedin
Ashburton, West Coast, Balclutha, Gore, Greymouth, Invercargill, Alexandra.
·TreasureBox is currently unable to deliver items to Waiheke Island, and any other Island addresses.