BetaLife Deluxe 5 Zones Pocket Spring Mattress - KING SINGLE
Regular Price
$
249
Special Price
$
229
6 payments from NZ $38.17 with
What's this?
Please note: Additional charge will be applied for rural area.

FREE
What Other People Also Bought?
BetaLife Deluxe 5 Zones Pocket Spring Mattress is designed with individual pocket springs for maximum support to give you the universal comfort by relieving pressure points along your neck, shoulders, back and hips. It's meant to provide you an undisturbed sleep all night long.
This Pocket Spring Mattress uses 5 zones individual pocket springs mechanism to provide localized bounce in different zones along the mattress. Its luxury breathable air mesh fabric is quilted with an anti-bacterial fabric and foam on top to offer protection against dust mites and allergies. It also incorporates reinforced edge covering to provide extra support on the sides of the mattress. This mattress from BetaLife gives you an extra layer of comfort and provides a luxury feel that customers always love.
PLEASE NOTE: Warranty is covered under conditions via guided caring instructions. It takes approximately 72 hours to completely unfold from packaging! Base is NOT included!
DISCLAIMER: We do NOT accept return or refund for all mattresses due to hygienic concerns. Please do NOT buy now if you disagree with this disclaimer!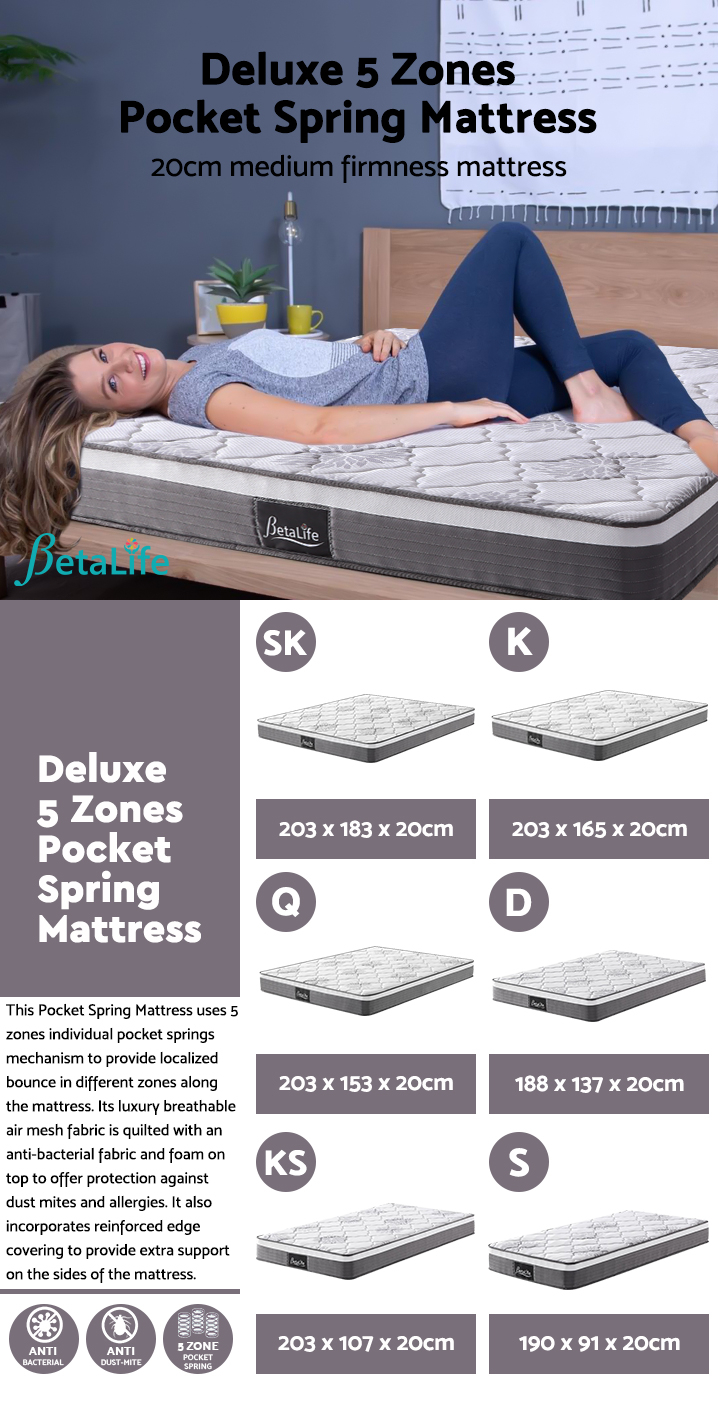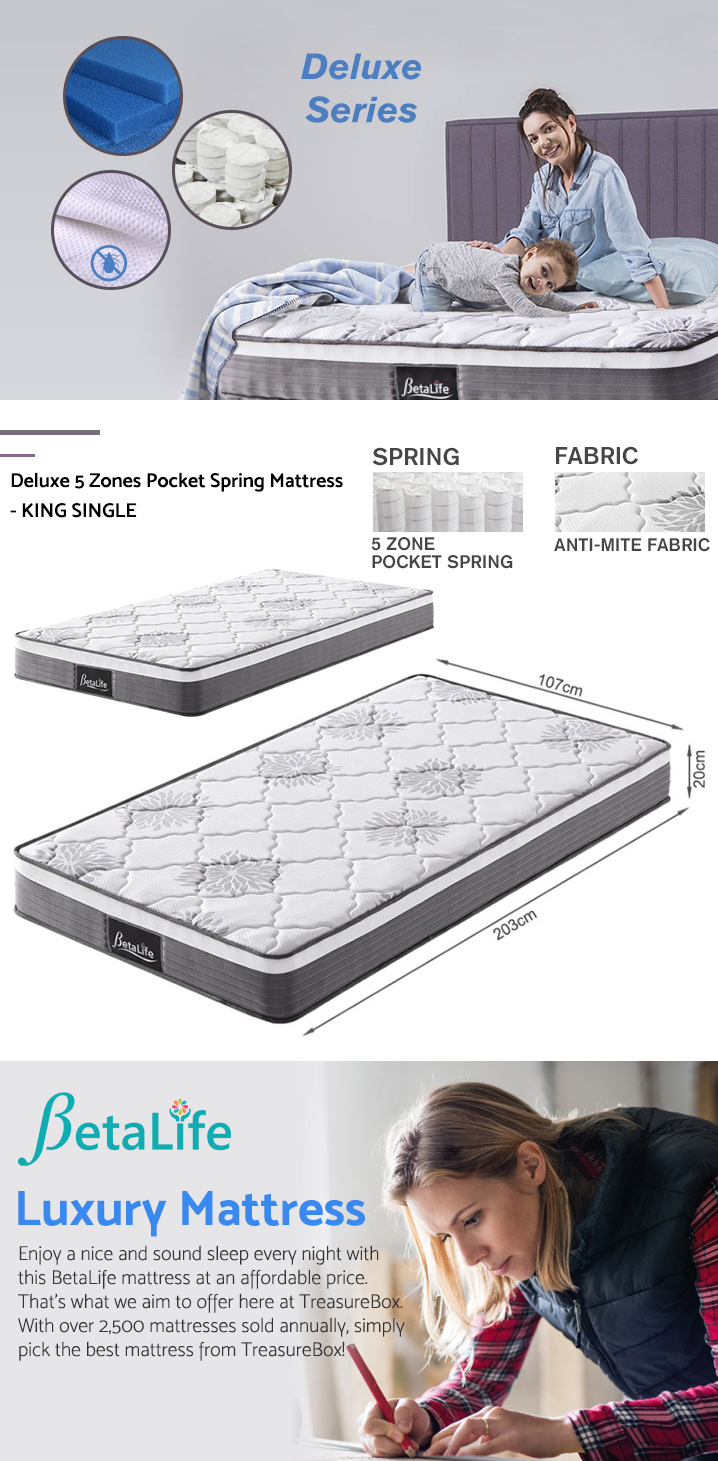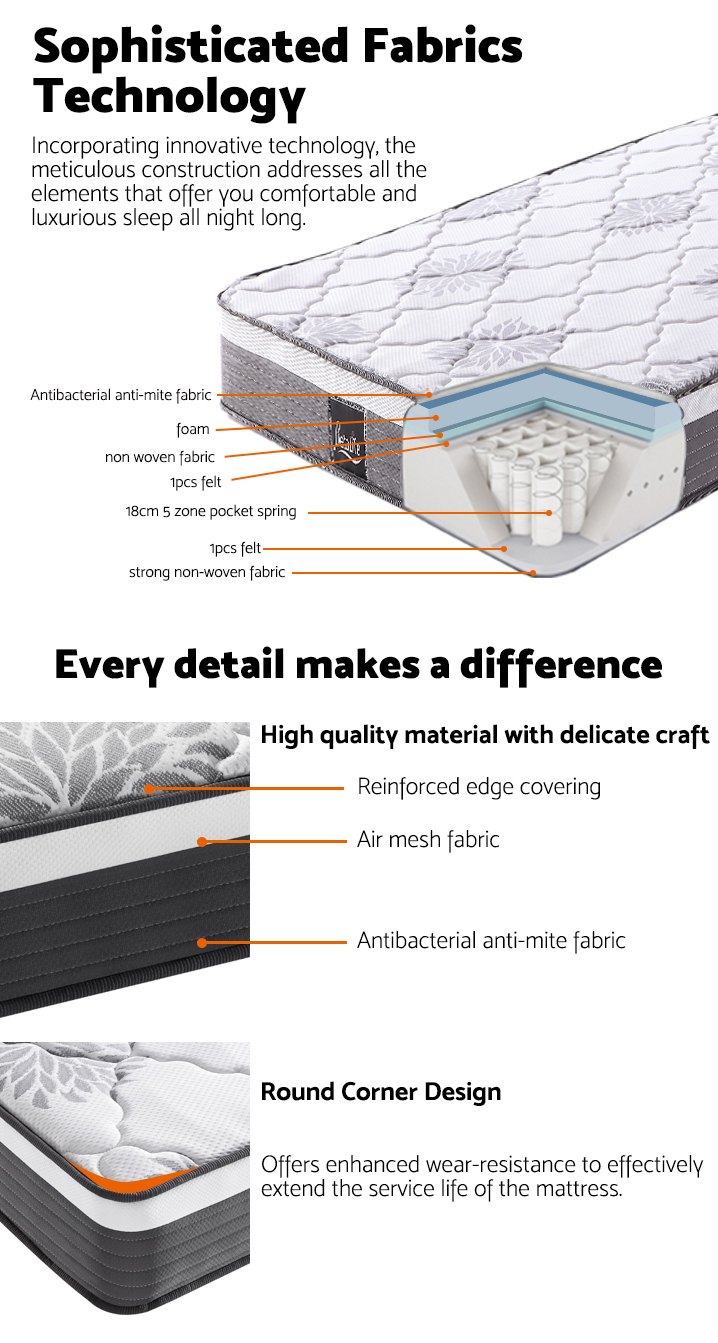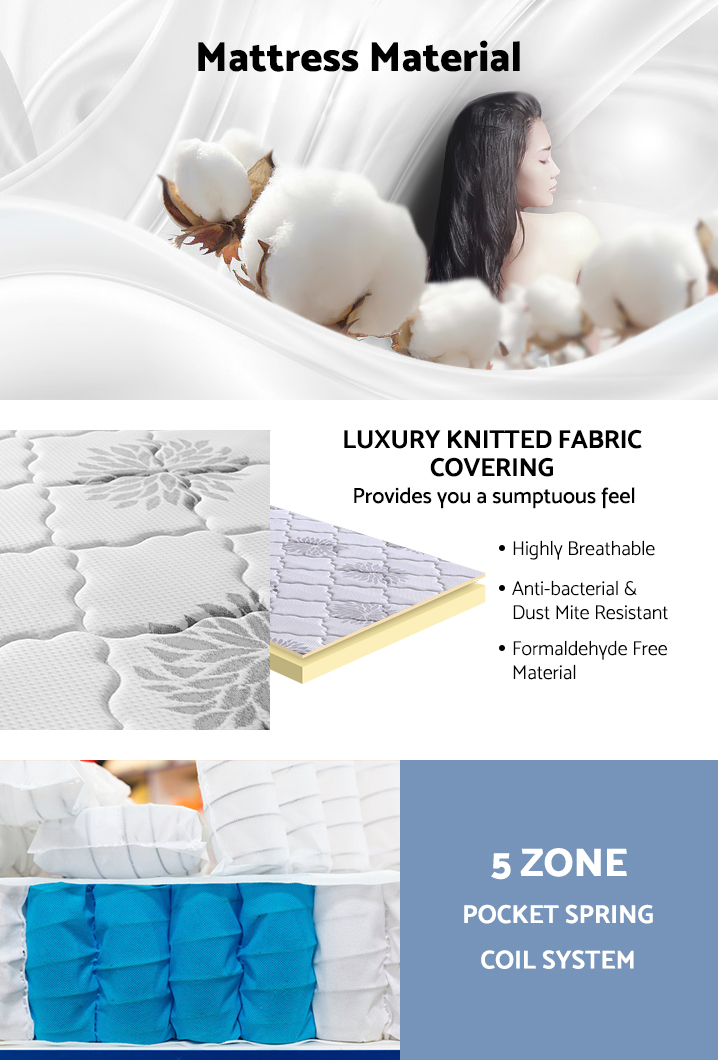 100% Brand New BetaLife Deluxe 5 Zones Pocket Spring Mattress KING SINGLE
5-zoned pocket spring system
Minimise partner disturbance
Individually encased pocket spring
Anti-bacterial knitted fabric
Beautifully embossed mattress pattern
Luxury & comfortable mattress
Fits standard king single bed
Product Dimensions (L W H): 107cm x 203cm x 20cm
Package Dimensions (L W H): 114cm x 28cm x 28cm
Produce Weight: 21.5kg
Package Weight: 22.6kg
Mattress Thickness: 20cm
Material: Pocket Spring / High Density Foam / Anti-bacterial Knitted Fabric
Mattress Firmness: Medium
Mattress Size: King Single

Package Contents:
1 x BetaLife Deluxe 5 Zones Pocket Spring Mattress - KING SINGLE