BetaLife Mattress have different series for you to choose from at Treasurebox!
Choosing the right mattress can be a nightmare. For a good night's sleep, you'll need a mattress that's perfectly suited to you, depending on your personal preference, sleeping position and individual demand.
This guide will run through the different options available so you can find the best perfect mattress for your sleep.
MATTRESS SIZE GUIDE
WHAT ARE BETALIFE MATTRESSES MADE OF?
COMPARE OUR MATTRESSES

Mattress
Super King
King
Queen
Double
Single
King Single
Size(cm) W x L
183 x 203
165 x 203
153 x 203
135 x 190
91 x 190
107 x 203
Size (feet) W x L
6'0" x 6'8"
5'6" x 6'8"
5'0" x 6'8"
4'6" x 6'2"
3'0" x 6'2"
3'5" x 6'8"
When buying a new bed, it's significant to make sure it fits in your room comfortably. Therefore, it's worth knowing which types of mattress is meeting your demands.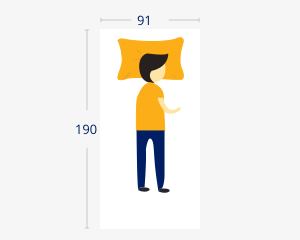 As the name suggests, they are ideal for one person. Single mattresses would be ideal for children to account for all growth spurts from toddler right through to the teen, teenagers, and solo adult sleepers. It is a great solution for a limited living space.
Perfect for: Children, teenager and limited living space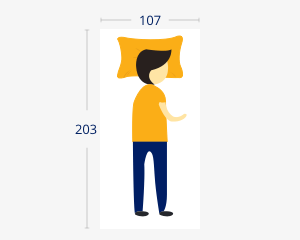 King Single can be used by many people, it would be both wider and longer than a traditional single bed. King single mattresses are ideal for tall teenagers and students. It is also the best solution for taller adults who live in a limited space and cannot get a wider bed.
Perfect for: taller teenager , taller adults who live in limited space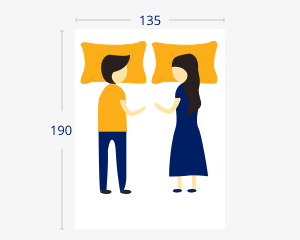 In more spacious modern homes, double mattresses are used primarily for children, solo adult sleepers (or someone who shares their bed with a pet). It also can work for couples who love cuddling and snuggling, especially when bedroom space is at a premium. It's a great option for a guest bedroom.
Perfect for: 2 persons, solo sleeper, smaller sized bedrooms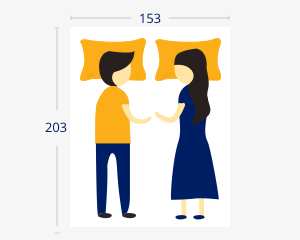 This is the most common size bed in the world, big enough to fit two people comfortably, It is ideal for solo adult sleepers who prefer having some extra space, couples who prefer sleeping near each other and gives the opportunity to be close enough for cuddling. It is also a great option for smaller master bedrooms, or guest rooms and teenagers room.
Perfect for: Couples, solo sleeper with a pet
The King Size is very common after the Queen size which provides the maximum amount of sleeping space and also gives more than enough space for you and your partner. also it perfect for taller people who need extra leg room.
Perfect for: 2 persons with kids and those taller than 190cm.
As the largest bed and mattress size available, it can provide an unbeatable amount of space. If you occasionally share your bed with kids and pets or you just value a lot of space, the super king is the ideal choice.
Perfect for: a big family with pets and those who value space